With slicing, also known as the term basing, you enable your PSD, Illustrator or Indesign design to be usable for web browsers.
Cutting the lay-out
The first step of slicing is to cut the graphic design into smaller figures that then form the basis of the webpage. The graphic design or layout can be uploaded to Direct Basing® in various formats, such as PSD-files (Adobe Photoshop), AI-files (Adobe Illustrator), IND-files (Indesign) or any regular format (JPG or PNG). All sliced figures are saved into logical naming conventions and attention is paid to its loading time by our driven specialists.
Positioning each sliced figure
When all figures are sliced, i.e. cut into smaller parts, they are ready to be used in the lay-out. By using CSS, the individual figures are positioned together and are further handled by the HTML code. Doing so enables the webpage or web shop to load even faster.
Slicing encompasses both the cutting of the graphic design into smaller figures as well as positioning the individual figures of the webpage, newsletter or email.

CMS slicing
If you are used to working with well known and used CMS or E-commerce systems, we can convert your design after it has been sliced into its corresponding template, e.g. Magento, Wordpress, Joomla!.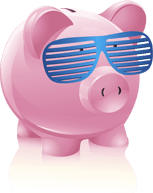 To slice or not to slice?
Do you have a website or web shop design, but lack the knowledge and skills to convert your Adobe Photoshop design into a semantic correct xHTML or HTML5 document, search no further, our slicers can help you. Still, even if you possess some knowledge, you can ask yourself the question whether it is wise to do it yourself as in most cases it can take up a lot of time and effort if it is not daily routine.
HTML and CMS slicing prices
From the start Direct Basing® has worked with a fixed team of highly skilled slicers. Additionally, all our slicers live up to our high quality standards as to ensure you are getting top quality deliverables.
We offer very competitive prices for converting designs into cross-browser compatible xHTML or HTML documents. So competitive, that it's not even worth doing it yourself. Additional pages with a big overlap in design are even cheaper, as most parts can be reused from the design. Outsourcing your slicing to Direct Basing® not only saves time but also money.
Our services
Some of our big clients?
One of our distinctive characteristics are the high quality slicing, with or without CMS implementation, and super fast delivery. Our highly skilled team of slicers delivers not only Search Engine Optimized code but care is also taken of the logical structure thereof. Our hard work and dedication have resulted in an extensive and varied portfolio with a wide range of customers. Below you will find just a small sample of our extensive client base for whom we performed PSD-slicing.