With our service PSD to Email we slice your uploaded PSD, Illustrator or Indesign file into a custom designed email or newsletter template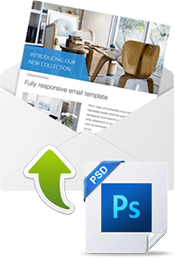 Why converting PSD to Email?
With HTML email we are using a subset of HTML that enables emails and newsletters to have a professional layout with figures which would not be visible with plain email text alone. In fact, most graphic email clients are built to visualize such content.
Most of these clients contain both a GUI editor to compose HTML-email as well as a rendering engine to display HTML-emails. Even Long URLs are included without splitting them into multiple parts.
The wrapping of the text is adjusted to the width of the viewport of the user client, instead of cutting the line after 78 characters as defined in RFC 5322 (used by older terminals). This enables to inclusion of in-line tables, diagrams and figures which normally could not be inserted.
Supported E-mail clients
The Email templates from Direct Basing® are suitable for the following email clients: Outlook, Windows Live, Yahoo mail, AOL, Thunderbird, Gmail en Apple mail.
Your custom Email template
Direct Basing® has a fixed team of highly educated top developers who do not rest until your PSD file has been transformed to a perfect Email or Newsletter template that fully satisfied your needs. We guarantee top quality slicings and email themes. In case you discover an error in your template we will solve this free of charge!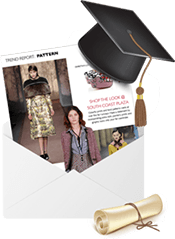 E-mail template specialists
From the start Direct Basing® has worked with a fixed team of highly skilled slicers. Additionally, all our slicers live up to our high quality standards as to ensure you are only dealing with specialists.
Most web developers are experiencing difficulties when trying to convert PSDs to custom designed email templates correctly that can then be used by most email clients. To fully ensure your tables and inline CSS to work be viewed correctly it's very important that you deal with professionals only. Only then can one fully be sure of the end result, which is a clean coded and well-structured email or newsletter template.
Prices PSD to E-mail
Do you have an email or newsletter design, but lack the knowledge and skills to convert your Adobe Photoshop design into a custom email template document, search no further, our slicers can help you. Still, even if you possess some knowledge to convert PSDs to a template, you can ask yourself the question whether it is wise to do it yourself, as in most cases it can take up a lot of time and effort if it is not daily routine.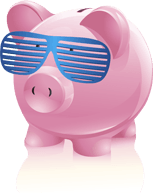 As indicated before, Direct Basing® has worked with a fixed team of highly experienced slicers
If you want to convert your design into a custom designed Email Template we offer very competitive prices. So competitive, that it's not even worth doing it yourself.
A simple cost calculation will tell that outsourcing your PSD to Email to Direct Basing® not only saves time but also money.
Search no further and choose for the best Email Template developers and calculate your savings
Calculate your price and safe money
We have worked for
One of our distinctive characteristics is the high quality email or newsletter slicings, and super-fast delivery. Our highly skilled team of slicers delivers not only Search Engine Optimized code but care is also taken of the logical structure thereof. Our hard work and dedication have resulted in an extensive and varied portfolio with a wide range of customers. Below you will find just a small sample of our extensive client base for whom we performed PSD to email or newsletter templates